Adventure, learning, challenge, responsibility -
the promise of Scouting is all this and more.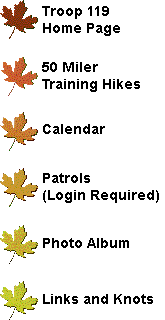 Troop 119 is a Boy Scout troop located in Montalvo, California USA. Troop 119 in the Ventura County Council is one of the oldest troops in Ventura (originally chartered March 1, 1951). We are proud to have had over 80 of our scouts make the Eagle Honor Roll.

New members and visitors are always welcome.

The troop has regular meetings on Monday at 7:00 PM in the Montalvo School Auditorium (see map below). There is usually no regular meeting scheduled on the week following an outing. Committee meetings are held once a month to plan upcoming events. Troop Leadership Council (TLC) meetings are held once a month (usually after an outing) to plan the next month's meetings.

Troop 119 enjoys many different types of special activities such as hiking, camping, backpacking, biking, skiing, rocketry and canoeing. At least one activity is scheduled each month.
"Life is Good"
Check out this Eagle Project by one of our Scouts:
&nbsp&nbsp The Construction of a Chumash Ap
Troop 119 (F-Troop) Theme Song
Where the land meets the sea and gulls greet the sky
And rivers seldom run.
Where the scouts don't listen and the Scoutmasters cry
And nothing ever gets done.

The unit that resides in Montalvo town
And is known as a rowdy troop.
They are always kidding and fooling around
One nineteen is that troop, that infamous group
F-Troop!

Troop 119 Yell
F-Troop, F-Troop
We're on our way
To help other people and to save the day
We can work togeather and get the job done
Goooo, F-Troop, Yeaaaah